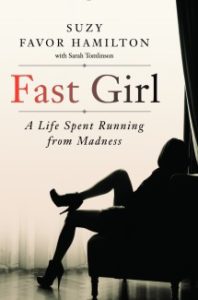 I am very excited to interview Suzy Favor Hamilton, a former Olympian who lives with bipolar disorder. She has been featured on multiple news shows, including 20/20. She is an amazing advocate, a really cool person, and it was nice to meet her. From her bio:
Fast Girl – A Life Spent Running From Madness is a New York Times Best Seller, and follows Suzy's path from child phenom runner to Olympian, and then her struggles with life after running and an eventual year in Las Vegas as a high end escort. Once Suzy is diagnosed with bipolar disorder, her entire life makes sense and recovery to a life of contentment begins.
Let's jump right in! The questions and answers are unedited. Presented to you, the reader, exactly as Suzy saw and answered them. Information to purchase Suzy's book is at the bottom of this article.
Suzy Favor Hamilton's Life with Bipolar Disorder
Q –  Your memoir, "Fast Girl," which chronicles your battle with bipolar disorder, shot to the New York Times Bestseller list rather quickly and you've become one of the better known bipolar spokespeople a short period of time. Do you feel a certain responsibility?
A – Of course. I have a voice, a platform, and I know it. It's something I take seriously, and I want to make a difference with it. I'm constantly trying to educate myself and listen to experiences of others so my message can be more effective. It's a work in progress, but I hope to really have an impact moving forward.
Q – When were you diagnosed with bipolar disorder, and were you shocked by the diagnosis?
A – I was diagnosed in early 2013, a couple weeks after being outed a Vegas escort. I was totally shocked to learn of my diagnosis, and initially, in denial. I remember not being completely truthful with the doctor about things at first, as I wanted to continue my behaviors, but he saw right through me. I thought there was nothing wrong with me. Couldn't people just let me live my life? At the same time, I was doing what I needed to do (see a psychiatrist) to keep my loved ones happy (parents, family doctor, husband, in-laws). I was cooperating for the sake of good appearance. It was a time of chaos then, and for the months to follow. It was not a quick, take a pill, and everything's ok.
Q – How did you manage living with bipolar disorder while also being an elite Olympic athlete?
A – You have to remember that I did not know I had bipolar during my competition days. But what I (and my doctors) believe is that my obsessive, highly intense running & training kept my bipolar symptoms mostly at bay all those years. My depression symptoms only really came into play in a big way after I retired and had my child. When I got out into the real world.
About Fast Girl – A Life Spent Running from Madness
Q – "Fast Girl" touches on issues that are often not discussed, including hyper-sexuality. Was it difficult to tell your story so openly and truthfully?
A – Extremely. Some of the sexual aspects of the book were easy to write about. What was much, much tougher was going back in time to my childhood, my brother, my father. And some of the more out of control sex related examples were challenging for me to revisit. I did some things I just can't believe I did, and it's tough to go there. I had a wonderful ghostwriter, Sarah Tomlinson, who was extremely patient and helped me get where I needed to get to write an effective book. It took a long time to get there though. The whole writing of the book was extremely difficult, but yet therapeutic at the same time.
Q – Some people feel as though "Fast Girl" is not only a memoir, but also a self-help book. Did you have this in mind when you wrote it?
A – I did. I knew regardless of whether someone is dealing with bipolar or not, those who read it could get the underlying message of rising from rock bottom, of saving a marriage, of pitfalls to avoid, of red flags to watch out for, the relation of risky, thrill seeking sex and mania, etc.
Suzy Favor Hamilton as a Bipolar Advocate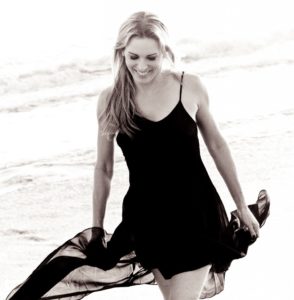 Q – How have people reacted to your extremely open and courageous account of your battle with mental illness?
A – I have received hundreds of notes from others sharing their story of mental illness and what many would call bizarre behaviors saying that my story has helped to make sense of theirs, that they no longer feel as alone, and in some cases, that they feel inspired to reach out for help.
Q – We hear the word "stigma" all of the time when it comes to mental health. Do you feel like people ever stigmatized you for being so open about your bipolar disorder?
A – Sure. Some just want me to shut-up and go away. Some want nothing to do with me. Former friends even. I think and hope that's a minority of people, but there is still an abundance of misunderstanding & ignorance out there. Can't get past the behavior, and don't understand the illness.
Q – Have people reached out to you since the publication of "Fast Girl?"
A – Absolutely. It's been a little overwhelming. I'm trying to catch up. The overwhelming response has been positive. I receive the occasional nasty note still, but I've learned to drown those out. Most rewarding are the many, many notes from people who have been through a very similar set of events. Not that they would end up going the escorting route necessarily, but there is a common sexual component. Every time, they offer thanks for sharing my story as it makes them feel less alone and seems to provide hope.
Suzy's website is www.suzyfavorhamilton.com and you can find her on Facebook and Twitter. To purchase Fast Girl on Amazon click here.
This interview was originally published on PsychCentral as, "An Interview with Olympian and Author, Suzy Favor Hamilton."