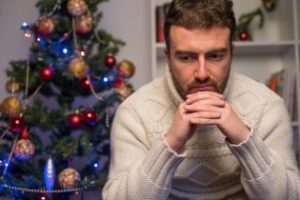 The holiday season can be a stressful time of year for everyone — but they don't have to be. In a previous article, "Five Ways To Overcome Holiday Stress," I offered some suggestions on ways to avoid some of the pitfalls that come along with the holidays.
It turns out five suggestions wasn't enough, so here are five more ways to help avoid the holiday blues.
1. It's Okay to Be Alone
Not everyone has a big family or a plethora of friends to celebrate the holidays with. Due to various schedules or location, it may be impractical to get together over the holidays.
Of course, there is no reason you have to spend the holiday season with anyone at all. It's perfectly acceptable to stay in and celebrate by yourself. Watch a movie, read a book, take a long bath, and take time to reflect. Some folks will buy themselves gifts or go on vacation.
Remember, it's okay to be alone, so make the holidays your own!
2. Make a Holiday Plan
This time of year, the holidays follow one after the other and it is easy for someone to become stressed from last-minute preparations. Planning can greatly reduce the pressure and slow down the typically speed-driven holidays. Rather than frantically putting together last-minute festivities, do as much as you can ahead of time. The more you can complete before the holidays hit "fully jolly," the more time you'll have available to really enjoy the holidays.
3. Don't Be Afraid to Seek Professional Help
If the holiday blues are constant and you think there may be bigger issues at play, you should seek the help of a therapist or other mental health professional. Sometimes, the holidays are when we feel the most alone; scheduling an appointment can help tremendously during this time.
4. Don't Listen to the Media
The media can play an important role in how we view the holidays. Pop culture loves to emphasize images that include large families lovingly gathered around a fire, feast, or other holiday festivity. Don't compare real life with the "picture-perfect" versions of the holiday season.
Doing so can greatly increase our feelings of isolation, while decreasing our self-esteem. Remember, media portrayals of everything are designed to impress; they are not reality.
Finally, please remember. . .
5. It's Okay Not to Like the Holidays!
Sometimes, we simply do not like something and that's okay! We are allowed to not like a specific holiday or the entire holiday season and it doesn't mean anything is wrong with you.
If you dislike the holidays, you are not alone in your opinion. Many people cringe at the thought of holiday festivities. For some, the holidays are simply too loud, too busy, too expensive, and too obsessed over by others. No one can make you enjoy the holidays, just as no one can make my niece, Nikki, eat her vegetables.
Do keep in mind, however, that if the holidays are not your cup of tea, it's not a sentiment you need to share. Spreading negativity does no good for either party and only adds unhappiness. Some people dislike this time of year, and other people (like me) love it. No one should be made to feel "less than" for their opinion.
Talkback: Using the comments sections below, share your tips and tricks for surviving the holidays and avoiding the blues.
This article originally appeared on PsychCentral as Five Ways to Make the Holidays Less Blue