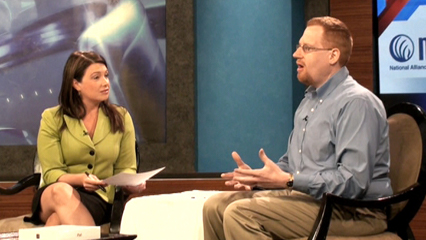 ABOUT GABE
Gabe Howard is an award-winning writer, mental health activist, and sought-after speaker and educator. In 2003, he was formally diagnosed with bipolar and anxiety disorders after being committed to a psychiatric hospital.
Prior to being diagnosed, Gabe suffered the effects of untreated bipolar and anxiety disorders and thought about suicide daily.  Because he and his family knew nothing about mental illness, no one interceded to offer him medical care or support.
In fact, his family believed his behavior to be "acting out," and tried to punish the behavior out of him. This led to him not only getting sicker, but feeling misunderstood, unlovable, and insignificant. Like his family and society, Gabe also felt what he was going through was a personality flaw and a moral failing.
These unchecked and untreated mental disorders, along with everyone's lack of understanding, further isolated him and greatly affected his chances of living a stable, healthy, and productive life. Gabe's chances for wellness improved greatly when he met a woman who understood mental illness. Luckily, she took the time to intercede and save Gabe's life by taking him to an emergency room. He has no doubt that, without her, he would have died by suicide.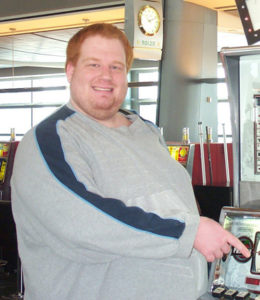 FIGHTING MENTAL ILLNESS
At the time Gabe was committed to the psychiatric hospital, he weighed 550 pounds, was delusional, suicidal, and had just come off a manic phase that had lasted about a year. His first wife had left him and he had rented an apartment to carry out his suicidal plan because, in his words, he "didn't want to stigmatize the house he owned and lower its resale value."
The 12-month span immediately following his diagnosis was a confusing period. Within a few weeks of being discharged from the psychiatric hospital, Gabe had gastric bypass surgery to help control his ballooning weight. He attended two separate outpatient treatment programs (approximately six months apart), and began taking psychiatric medications, all the while living alone in the apartment he'd rented to end his life.
Undaunted, Gabe worked to reach recovery, which he defines as "spending more time living life than managing bipolar." Gabe says, "There were good days, bad days, and lots more bad days, but I always worked to move forward. I describe it as an epic battle.  And it's one I'm still fighting and still winning."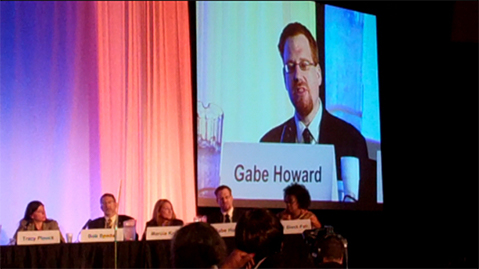 MOVING INTO MENTAL ILLNESS ACTIVISM
When Gabe did reach recovery, he remembered all the people who helped him when he needed it – many of them volunteers. Feeling that it was vital that he give back, he began volunteering for a national mental health charity. Through that volunteerism, he was able to hone his skills as a writer, activist, and speaker. As an activist, he works in the trenches to confront the fear, discrimination, and stigmatization faced by people with mental illness. Society often sees people living with mental illness at their worst and he works to balance that out by living openly with mental illness.
Gabe's writing has appeared in numerous online publications, including HealthyPlace, bphope.com, Health Central, Elephant Journal, WEGO Health, and The Mighty. In addition to his online work, he has appeared in Bipolar Magazine, the Columbus Free Press, the Wall Street Journal, Columbus Dispatch, Columbus Monthly, NAMI Advocate, and multiple other newspapers. In addition to his column on Psych Central, Don't Call Me Crazy, he is also an Associate Editor and can be heard weekly as the host of The Psych Central Show.
He is the recipient of the 2014 Mental Health America Norman Guitry Award, placed second in Health Central's LiveBold competition, was a 2015 WEGO Health Awards Finalist in the Health Activist Category, received a Best of the Web – Blog award, and was a 2014 Mental Health Hero. 
In his writing, speaking, and in life, Gabe is direct, charismatic, and approachable. He loves interacting with people and he discusses the serious topic of mental illness with the right blend of education and entertainment.
The important thing, Gabe always adds, is that "I talk with people, not at people."
Gabe makes his home in the suburbs of Columbus, Ohio. He lives with his supportive and patient wife, Kendall, and a Miniature Schnauzer puppy that he never wanted, but now can't imagine life without.
Being Diagnosed With Bipolar
Gabe Speaking about Diagnosis
You can view more of Gabes Videos HERE